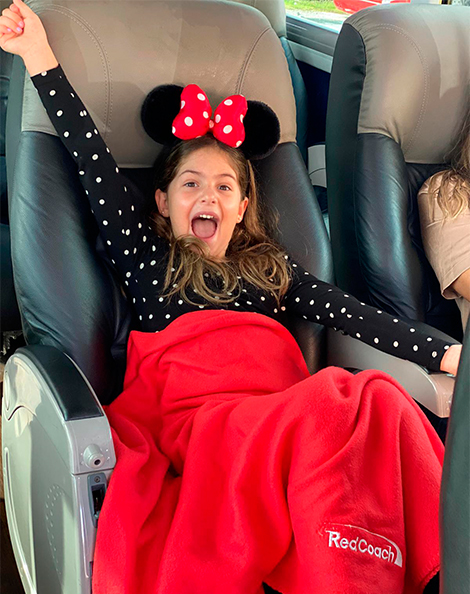 Unaccompanied Minors
Here is what you need to know before sending a minor with us:
Anyone under the age of 18 is considered a minor.
Children ages 15 and under are not allowed on board without an adult (18+).
Minors 16 and 17 years of age may travel unaccompanied.
The trip must not have a shuttle connection.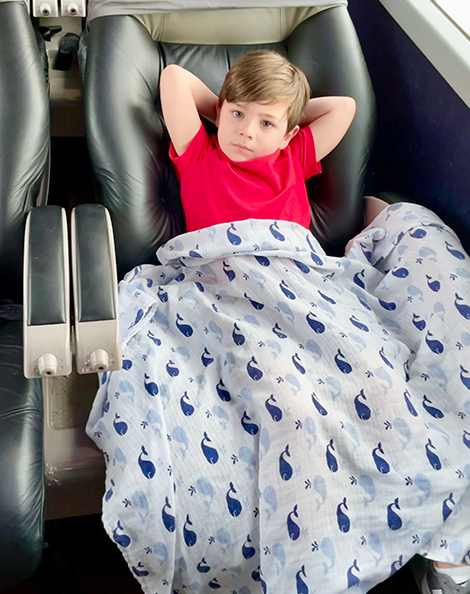 Safety Seats
Child safety seats, though not required, are more than welcome on RedCoach vehicles. We understand that your child's safety is paramount. Thus, before buying a ticket, please ensure that the child seat is approved for use in a motor vehicle and is used in accordance with manufacturer's guidelines. It is your responsibility to attach the child safety seat properly and to ensure that the lap and/or shoulder belt is working properly and attached securely.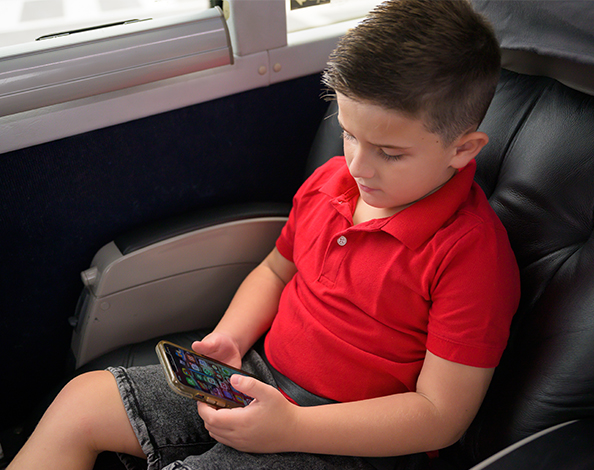 Children Discount
Children between the ages of 3 and 12 years old traveling with an adult receive a 15% discount at the moment of purchase. Please select Child 3-12 as passenger and the discount will be applied automatically to the purchase.
Children 2 years old or younger can travel free of charge if they will not be using his or her own seat.
Children under 16 years old cannot travel alone; must go with an adult.
Some Suggestions
It will take a little while for any child to get used to traveling, especially when traveling for long distances in unfamiliar places. Talk to your child about the trip and make him or her excited. Make sure you are all well-rested on the day of travel —it will make the trip more enjoyable. Pack the following in your carry on so you are better prepared for little surprises:
Your child's safety blanket
Thick socks so they can take their shoes off and be more comfortable
Pack snacks in case he or she gets hungry
Take enough diapers and baby wipes
Spare clothing for yourself and your child (accidents can happen)
Any important medication
Why travel with RedCoach?
Luxury travel at affordable prices
Ultimate
Comfort
Unlike traditional motor coaches, we offer you extra legroom and the ability to recline up to 140 degrees. We also have 3 types of buses, first class with 27 seats, business class with 38 seats and Premium economy with 56 seats.
On-Board
Entertainment
You can connect to our free Wi-Fi on any of your electronic devices. You can also watch movies or work while charging your device on our plugs right next to your seat.
Utmost
Safety
On RedCoach, your safety is our priority. That's why we hire only the most qualified drivers and monitor every mile of your ride through an 8-camera feed and a top-of-the-line GPS tracking.
High
Productivity
We only stop at Texas and Florida's most popular destinations; making less stops gets you to your final destination just as fast as if you were driving. However, since you are not the one at the wheel, you are able to catch up on work (or naps) on your way to your destination.
Ride in our luxury coaches. Fast as a car, more convenient than a plane
Our destinations at the best price
Florida
Orlando

Miami

Capital Mundial del Yate

Miami

Gainesville

Capital Mundial del Yate

Gainesville

Orlando

Capital Mundial del Yate

Tampa

Miami

Capital Mundial del Yate

Ft. Lauderdale

Orlando

Capital Mundial del Yate

Tallahassee Downtown

Miami

Capital Mundial del Yate
Texas
Dallas

Austin

Capital Mundial del Yate

Austin

Houston

Capital Mundial del Yate

San Antonio

Dallas

Capital Mundial del Yate

Dallas

Houston

Capital Mundial del Yate

Dallas

College Station

Capital Mundial del Yate

Houston

Austin

Capital Mundial del Yate
Let's start saving
Your bus ride, at the lowest price